COTTAGE PAINT TRANSFORMS HALLWAY TABLE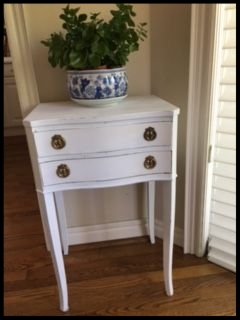 Guided by the staff at Upper Village Paint & Wallpaper, one of our Forest Hill customers used Serenity to brighten an old varnished table. She prepped the wood first with Cottage Paint Furniture Clean and Prep and Clear Furniture Primer. 
The table was painted with Serenity - a mineral-based paint with varnish. The colour was "Cloudy Day". The beautiful smooth finish was achieved by using the five piece Cottage Paint Furniture Painting Kit - which included roller tray with sleeve, 4" roller & frame,  3" Taklon brush and 2" painting brush.
She was thrilled with the result!
products used: